The Salus – Security System Bundle
Genesis Smart Hub
As the control center, it is fully compatible with ZigBee devices, has Alexa built-in, integrates smart IR for additional control, and has an 85dB alarm siren that will sound in times of emergency.
Keypad
Entirely wireless and smash-safe, allowing seamless arming and disarming. Place near the entrances of your home that are used most frequently.
Entry Sensors
The majority of home invasions happen through a door or window. Our entry sensor is designed for use on doors, windows, and other objects that open and close.
Motion Sensor
Be alerted to unexpected movements and protect what matters most. Great for securing rooms with lots of windows and open space.
Glassbreak Sensor
Detects the unique frequency of shattering glass and will trigger a full-blown security system alarm.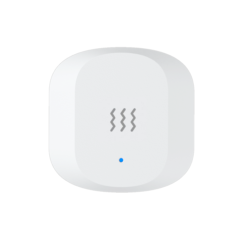 Key Fob
Easily arm & disarm with a Key Fob. The panic button function also offers protection as you enter your home.
Panic Button
Help is always at your fingertips when you place Panic Buttons in easy-to-reach locations.
Smoke Detector
This smoke detector will sound its own internal siren & trigger a full-blown security system alarm.
Temperature & Humidity Sensor
Our temperature & humidity sensor is designed to help control your environment wherever you position it. Detect temperature and humidity in real-time and access past records.
Temperature & Humidity Sensor
Water Leak Sensor
Our water leak sensor will alert you and trigger an alarm whenever it comes in contact with water, preventing costly damage from leaks & floods.